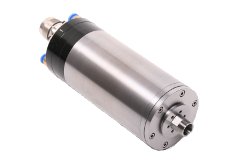 High frequency spindle for HSC (High-Speed-Cutting) processing.
Highspeed grinding, drilling, engraving and milling etc.
Documents to download:
Spnndle mass
Performance graph
Technical Data
Collets shank diameter:
max. 7,0 mm
Collet type:
ER11
Housing:
Stainless steel
Housing diameter:
62 mm
Motor construction:
Three-phase-asynchronous motor
Speed range:
5.000 – 40.000 rpm (60.000)*
Voltage V Maximum:
220
Current A Maximum:
7
Torque in Ncm:
33
Frequency range Hz:
83 – 667 (1.000)*
Performance W Maximum:

S1:500 W (1.200)*

Type and number of ball bearing:
Hybrid ceramic, permanently lubricated, 2 pcs
Run out inner taper mm:
< 0,001
Tool change:
manual by clamping nut
Cooling:
External cooling by clamp fixing
Weigt:
2.700 g
Further Features:
– Sealing air
– Motor temperature monitoring
– Monitoring of ball bearing temperature
Order number:
6245/1
* The integration of a liquid cooling leads to an increase of performance up to 1,2 kw / 60.000 rpm. This possibility to upgrade can even be retrofitted. We will advise you with pleasure!
Periphery:
HF Converter


HFU-1500
HFU-3000
HFU-3200
---
Spindle holder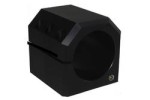 181062