Combinations:
Spindles: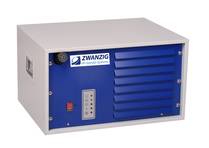 Product Information
Spindle cooler with high power reserves and monitoring sensor for the following statuses:
Coolant flow
Temperature
Filing level O.K.
Coolant level too low
Coolant insufficient
The monitored statuses can be transmitted to a higher-level controller and are evaluated there. In addition, operation safety can be guaranteed up to an ambient temperature of + 43 ° C.
Technical Data
Cooling performance:

1.500 W
Cooling circuits:

1
Spindles to be cooled:
1
Cooling temperature flow:

20° C +/- 2° C
Max. permitted ambient temperature:

+ 43° C
Coolant connections:
1/4″
Connectivity:
230 V – 50/60 Hz
Dimensions WxHxD:

450x410x500 mm
Weight:
ca. 42 kg
Monitored statuses:
– Coolant flow
– Temperature
– Filling level O.K.
– Coolant level too low
– Coolant insufficient
Order number:
K4315